PARKING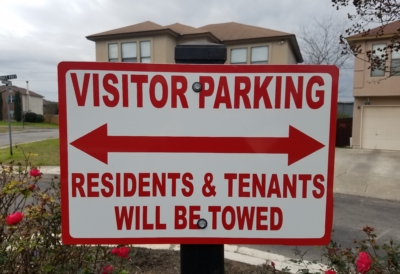 NO RESIDENT / OWNER / TENANT
ARE
EVER

ALLOWED TO PARK IN VISITOR OR STREET PARKING.
TOWING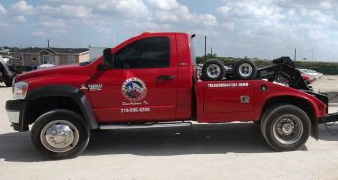 BEXAR TOWING is patrolling the neighborhood for infractions. If you are towed you can reached Bexar Towing at (210)590-6200 for information on how to recover your vehicle.
If you would like to have Bexar Towing patrol your street or the neighborhood. You can contact Bexar Towing at (210)590-6200 with the password "RAMS" and they will send a patrol. You do not need to leave your name or contact information. They will only tow vehicles that are in violation of the parking rules.
#mysummerwind
LINK TO FULL PARKING POLICY
2018-09-11-Parking-Policy-Filed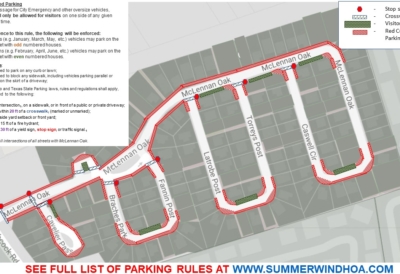 HIGHLIGHTS OF PARKING RULES
No vehicle is permitted to park on any curb or lawn;

No vehicle is permitted to block any sidewalk, including vehicles parking parallel or diagonally at the end/on the skirt of a driveway;

All homeowners will be held accountable for their resident's, tenant's and visitor's vehicles;

All City of San Antonio and Texas State Parking laws, rules and regulations shall apply, including but not limited to the following;
Areas of Restricted Parking
To ensure safe passage for City Emergency and other oversize vehicles, street parking will only be allowed on one side of any given street at any given time and for visitor vehicles only and not on cul-de-sacs. Visitors are considered those guests that make occasional, short-term social visits. To ensure adherence to this rule, the following will be enforced.
On odd months (i.e., January, March, May, etc…) visitor vehicles may park on the side of the street with odd numbered houses.
On even numbered months (i.e., February, April, June, etc…) visitor vehicles may park on the side of the street with even numbered houses.
Resident Vehicle Identification:
All resident and tenant vehicles will be required to be identified by means of a "resident sticker" . The application for the "resident sticker" will require the following information: make, model, color, year, and license plate of each vehicle used by a resident or tenant. The "resident sticker" will be affixed to the lower left side of the front windshield.